Graffiti Artists For Hire Sydney
Hire the best graffiti artists in Sydney
Get A Quote Now
So we can provide an accurate quote. Please let us know as much information as possible.
Such as:
 Is the wall already painted or is it raw brick or concrete?
Type of surface to be painted on?
Is the area interior or exterior?
Do you know what you would like painted?
Can you provide a photo of the wall?
A reference image of the type of design or style you are after.
Sydney Graffiti Artists For Hire
Do you reside in Sydney and looking to hire proficient Graffiti artists? Look no further
Here at Blackbook Ink we have a portion of Australia's best graffiti artists for hire.
Our team has completed innumerable Graffiti mural commissions, from nearby restaurants, cafes, council projects and feature walls for corporate offices.
Every mural is unique, hand-painted and intended for your brief. Turning your vision into a reality.
Sydney is one of the significant markets where we furnish astonishing and gifted artists with long experience and expert guidelines.
We cover all areas in New South Wales. But we do have a team that is Australia wide. If  required we have graffiti and mural artists located in Perth, Melbourne, Brisbane, Gold Coast, Adelaide, Newcastle and even Canberra.
Our services are appealing to a wide scope of demographics including Councils, cafés, music festivals, clothing labels, television networks, and popular big name brands.
We can work together with your brand to create stand out graffiti art activations to launch your new campaign or product. With an arsenal of graffiti artists in all areas around Australia and infamously capable artists. We offer a credible and connecting approach to communicate with people in general like no other medium.
We have a group of gifted and experienced street artists available for hire that can take into account any theme you may require.
Our team of skilled graffiti artists is exceptionally regarded for the high quality of artworks created and professional manner we provide to our clients.
Why Choose Blackbook Ink for your project?
Our experienced graffiti artists have completed endless artworks for a large range of clients including Councils, Local businesses, schools, private homes and much more. We can produce anything from small artworks through to large scale productions in any style of graffiti or street art theme you may require.
Competitive costs for Graffiti artists for hire – Sydney's best value pricing and outstanding levels of customer service.
Whether it's a private home or a full-service campaign roll out we have got you covered with professional service and artistic production, creating authentic public engagement like no other medium.
We have an awesome selection of Australia's best street artists on hand to transform your project, whether you are in Sydney, Canberra, Brisbane, Melbourne, Adelaide, and Perth or somewhere in between.
You can have a look at our portfolio to see a portion of our ongoing commissioned work.
If you would like to hire graffiti artists in Sydney and surrounding areas, do not hesitate to contact us for a formal quote to produce an innovative artwork for your business or home.
We look forward to working with you. Turning your vision into a reality.
Top Things to do in Sydney
If at any time there was a city that didn't require any additional assistance to look beautiful, it's Sydney.
Regardless of whether you're here for the weekend or the rest of your life. Sydney's an excellent spot to live and a brilliant city to visit.
Sydney's downtown suburb of Surry Hills is home to much-cherished cafes, peculiar design boutiques and recycled second-hand shops along Bourke and Crown lanes. Venture in the previous home and studio of cutting edge artist Brett Whiteley on Raper Street, and afterward appreciate an espresso and pastry at the acclaimed Bourke Street Bakery.
For something more underground, head to Sydney's astounding neighbourhoods of Newtown and Enmore. What's more, there you'll recognise some of the city's best street art, for example, Blackbookink.com.au, including works that private homeowners authorised for the outside of their homes, hosting graffiti murals to the status of the coveted art piece. You can visit the best works and get a background on the territory's transformation on a city street art walking tour.
Here are a few tourist attractions for the street art lovers.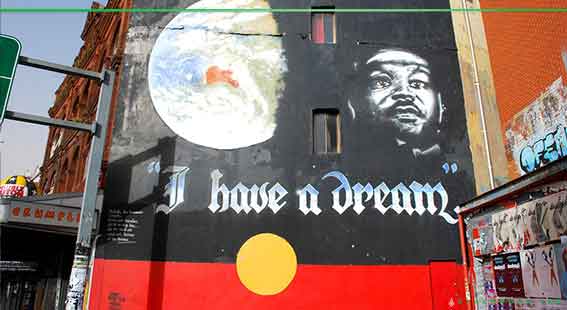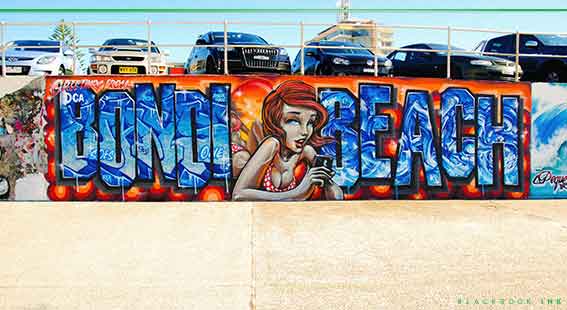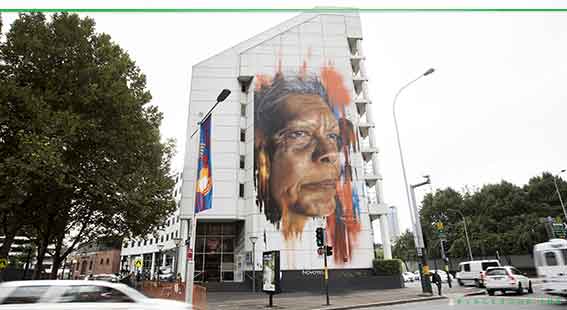 King St, Newtown 
Sydney's coolest neighbourhood Newtown must be the primary stop on this street art visit. To check out King St's famous I Have a Dream Mural which is a tremendous mural evoking Martin Luther King. This is one of the earlier Newtown murals. Painted in August 1991 by Andrew Aiken and Juilee Pryor. Later the Aboriginal flag was added at the bottom. .
Bondi Beach
There's nothing like soaking up/experiencing Sydney on Bondi Beach. The Australian icon is home to white sands, blue water and home to some incredible street art. Actually, bright graffiti works and murals run the length of the seashore. The Bondi Beach Sea Wall has been in operation since the late 1970s and has featured a mix of street art and contemporary art with strong social and political messages throughout the decades. Over the years, the Bondi Beach Sea Wall has hosted the work of some of the best known street artists across the globe. Featured art works have ranged from collages, stencils, pop art, text works, love notes and memorial portraits.
The Bondi Beach Sea Wall is open to artists of all calibres. Artists seeking permission to paint a mural must submit an application online.
Haymarket – 3 Little Pier St
Street artist Matt Adnate painted this portrait of Aboriginal rights activist and Wiradjuri elder Jenny Munro in June 2016 as part of a commission by ANZ. Munro founded the Aboriginal Tent Embassy in Redfern in 2014, in protest against the commercial redevelopment of The Block, and was part of the group that eventually secured a deal for affordable housing for Indigenous families. As Munro says, "[The Block] is the first piece of land, in an urban context, that was returned to our people. That's the very special nature of [it]."
The six-storey high portrait took five days to complete, with the artist working with spray cans on top of undercoats of house paint. If you look closely, you can see a mountain landscape painted in Munro's eyes.
Let us make your vision become a reality. Don't hesitate to contact us and hire a graffiti artist from Sydney, Melbourne or Perth.