Graffiti Artists For Hire Melbourne
Hire the best graffiti artists in Melbourne
Get A Quote Now
So we can provide an accurate quote. Please let us know as much information as possible.
Such as:
 Is the wall already painted or is it raw brick or concrete?
Type of surface to be painted on?
Is the area interior or exterior?
Do you know what you would like painted?
Can you provide a photo of the wall?
A reference image of the type of design or style you are after.
Melbourne Graffiti Artists For Hire
Do you need professional Graffiti Artists for Hire in Melbourne? Do you have space or an idea you would like to see come to life in Melbourne? Look no further!
Blackbook Ink is founded on the concept of linking you with the most effective mural and graffiti artists for your job. We have numerous gifted artists available for you and our goal is to provide you with skilled artists to produce something bespoke. Here you can find only gifted graffiti artists for hire inMelbourne.
As the leading graffiti art company in Melbourne. Blackbook Ink enables you to find the artists you desire conveniently. We have worked with different brands and private clients to provide the best graffiti artworks available for you today.
Let us connect you with the best graffiti artists for hire in Melbourne for your project today!
Why Choose Blackbook Ink for your project?
We always strive to produce the outright ideal work of art for every single client and also customer satisfaction is our first and foremost top priority.
Your artwork is only handled by the best. Our professional graffiti artists all have a minimum of 15 years experience in painting interior & outside artwork using spray paint.
The leading goal is to provide attractive artwork and the solutions we supply include exterior and interior mural setups for schools, gyms, office/brands, graffiti workshops for company building, residential as well as business decor/signage.
We have a competitive cost for Graffiti artists for hire – Melbourne's best value pricing and outstanding levels of customer service.
We have an awesome selection of Australia's best street artists on hand to transform your project, whether you are in Melbourne, Canberra, Brisbane, Sydney, Adelaide, and Perth or somewhere in between.
If you like to stop and admire the vibrant and unique pieces of art that adorn so many buildings and walls around Melbourne then you should hire one of our talented graffiti artists for hire. Whether realistic or rather cartoon-like, Blackbook Ink can create amazing artwork for all kinds of projects that will grab anyone's attention.
So don't hesitate to contact us. As we look forward to working with you. Turning your vision into a reality.
Top Things to do in Melbourne
When you think Melbourne, some of the words that come to mind surely must be 'coffee', 'laneways' and 'street art'.
Melbourne is known as one of the world's great street art capitals for its unique expressions of art throughout the city.
Offering a feast of colour, ideas, and energy, Melbourne's internationally renowned street art scene has become an attraction for local and overseas visitors.
To find the best street art in Melbourne, you don't have to go far, as the city's many laneways are filled with colourful murals, stencils, paste-ups, and mixed media art.
Wander around and make your own discoveries or you can have a look at our portfolio to see a portion of our ongoing commissioned projects.
Street art covers almost every nook and cranny of our creative, colourful city.
Below are the street art hotspots that any local or overseas visitors should be snapping.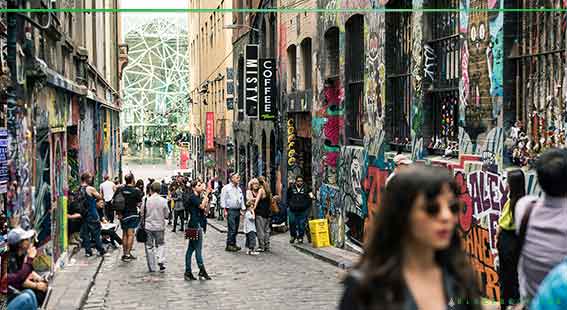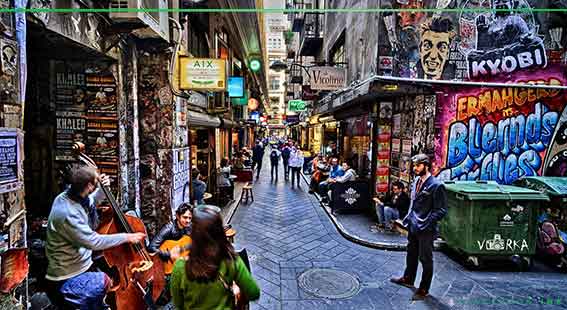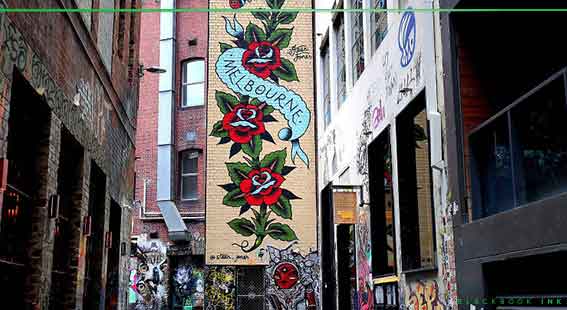 Hosier Lane
Opposite Federation Square and joining Flinders Lane with Flinders Street, the cobblestoned Hosier Lane is arguably the central point of the city's street art scene. Spend a long while checking out every little bit of its overflowing street art cluster. Walk down the famous bluestone laneway and admire the street art that has made the Melbourne urban art scene known across the globe. Take in the dizzying array of colours, characters and shapes created by local and international artists alike. Pick out everything from stencils and paste-ups to murals and installations. Take a wander on your own or join one of the popular walking tours to get some background on the artists and their work. Take a detour round into Rutledge Lane and explore the work lining the walls, windows and wheelie bins of this sister 'gallery'.
Once you've had your fill of the colour and mayhem of the street art, slow things down with a refreshing cocktail at Bar Tini – a popular pre-gig drink spot for the Forum Theatre crowd. Alternatively, sit elbow-to-elbow with other hungry punters at Movida – one of the city's best tapas restaurants.
Centre Place
You can find it between Collins Street and Flinders Lane and feast your eyes on some of Melbourne's most high-profile and elaborate stencil work and graffiti art.
You can idle the afternoon away by the bluestone cobbles of Centre Place and become part of a Melbourne postcard scene. Though you might recognise it from the stereotypical images of the city's famous laneways, Centre Place still surprises and delights.
Changing stencil art and graffiti provide a sensory overload best dealt with by squeezing into Jungle Juice for an international coffee. Soups and crepes will tempt, as will the dumplings at ShanDong MaMa Mini. Browse threads and accessories at iconic Melbourne fashion house Kinki Gerlinki and then clamber up the narrow stairs to Hell's Kitchen and survey the scene below over a cold afternoon beer.
Duckboard Place
Duckboard Place curves around from Flinders Lane to AC/DC Lane. In addition to several significant murals, Duckboard Place is home to some high-end restaurants, including Lee Ho Fook.
Let us make your vision become a reality. Don't hesitate to contact us and hire a graffiti artist from Melbourne, Sydney or Perth.