Graffiti Artists For Hire Perth
Hire the best graffiti artists in Perth
Get A Quote Now
So we can provide an accurate quote. Please let us know as much information as possible.
Such as:
 Is the wall already painted or is it raw brick or concrete?
Type of surface to be painted on?
Is the area interior or exterior?
Do you know what you would like painted?
Can you provide a photo of the wall?
A reference image of the type of design or style you are after.
Perth Graffiti Artists For Hire
Are you looking to hire a professional Graffiti artist in Perth? You are in the right place!
Blackbook Ink aims to beautify the world we live in and graffiti art or street art, is the form in which we choose to do it.
We have the best Graffiti artists in Perth and this has been a driving force in shifting people's perceptions around street art and its recognition as a legitimate art form. We have done this through our publicly displayed artworks, which exhibit our passion for the form and the project.
Our murals are designed with you and hand-painted by members of our diverse team of street artists and graffiti artists for hire in Perth.
We offer a wide range of services from Graffiti Murals and Walls to customised rooms. Furthermore, our personalised approach suites any event, business or residential commission, where our techniques stretch to freehand spray painting, stencilling, airbrush painting and canvas art which can be applied indoors or outdoors on virtually any surface or material without compromising quality.
Why Choose Blackbook Ink for your project?
Our experienced graffiti artists have completed endless artworks for a large range of clients including Councils, Local businesses, schools, private homes and much more. We can produce anything from small artworks through to large scale productions in any style of graffiti or street art theme you may require.
Competitive costs for Graffiti artists for hire – Perth's best value pricing and outstanding levels of customer service.
Whether it's a private home or a full-service campaign roll out we have got you covered with professional service and artistic production, creating authentic public engagement like no other medium.
We have an awesome selection of Australia's best street artists on hand to transform your project, whether you are in Sydney, Canberra, Brisbane, Melbourne, Adelaide, and Perth or somewhere in between.
Our street art & graffiti murals are stand-out show-stoppers made for you or your business.
Our mural installations drive a particular message or campaign in a way most appropriate for geo-targeted locations and demographics.
Blackbook Ink transforms spaces and provide an engaging background for any retail location or entertainment venue.
We service everyone. Whether you're a corporate office, private collector, sporting team, design agency or community-based organisation, Blackbook Ink will provide you with the highest quality graffiti art.
Intensify your brand with effective murals by our expert street artists and graffiti artists for hire in Perth today.
You can have a look at our portfolio to see a portion of our ongoing commissioned work.
Top Things to do in Perth
Perth City abounds with a wide variety of gorgeous street art, and you'll come across plenty of murals on your wanderings down Perth's streets and laneways, with a wide variety of themes highlighting Perth in all its colour and diversity. With its convenient location and hustle and bustle, you'll never be far from a coffee as you explore!
If you are looking for what to do in Perth, apart from the gorgeous beaches, we suggest taking a tour of Perth Street Art. There are a fair few famous graffiti artists who have left their mark and it's one of the best free things to do in Perth.
Here are a few tourist attractions for the street art lovers.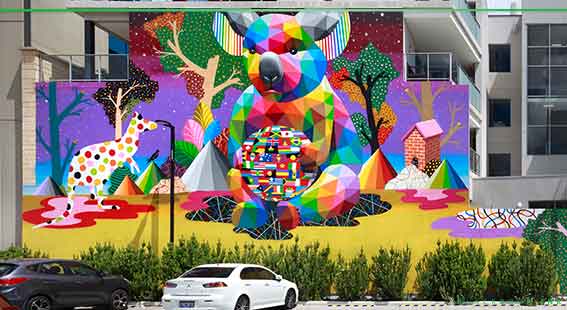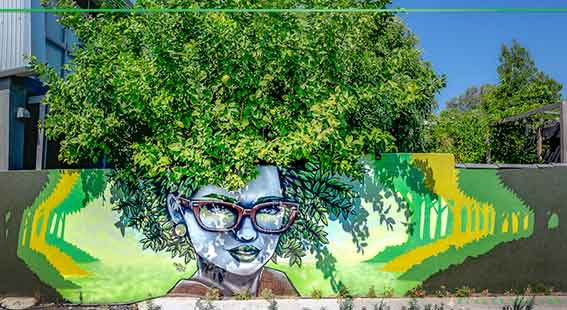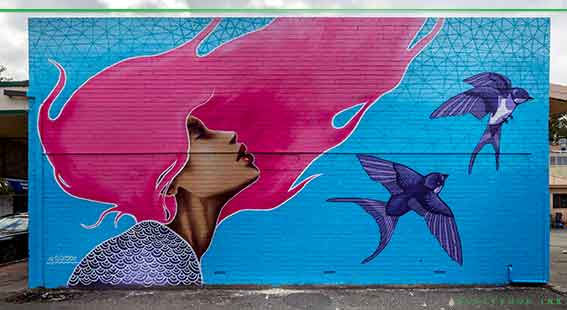 Subiaco
Painted in 2017 and located in Forrest Square, this piece was created over three days by Spanish artist Okuda San Miguel, AKA OKUDART. It's split into two works entitled 'Kid Koala Playing God' and 'Kingaroo', and reflects the artist's trademark style of using pop surrealism (and in this case – some Australiana) to raise contradictions about existentialism, the universe, the meaning of life and the false freedom of capitalism.
Mt. Lawley
This amazing mural in Mt. Lawley was painted by local artist Paul Deej and we just love how it integrates with its surroundings! Sensational stuff.
Leederville
This beautiful mural was painted by Perth artist Sarah McCloskey, AKA SARSAR in April 2015. It was created for FORM's 'PUBLIC PERTH' street art festival that year, and you'll find it located at 112 Oxford Street in Leederville.
Let us make your vision become a reality. Don't hesitate to contact us and hire a graffiti artist from Perth, Sydney or Melbourne.