Featured Artist: Paul Deej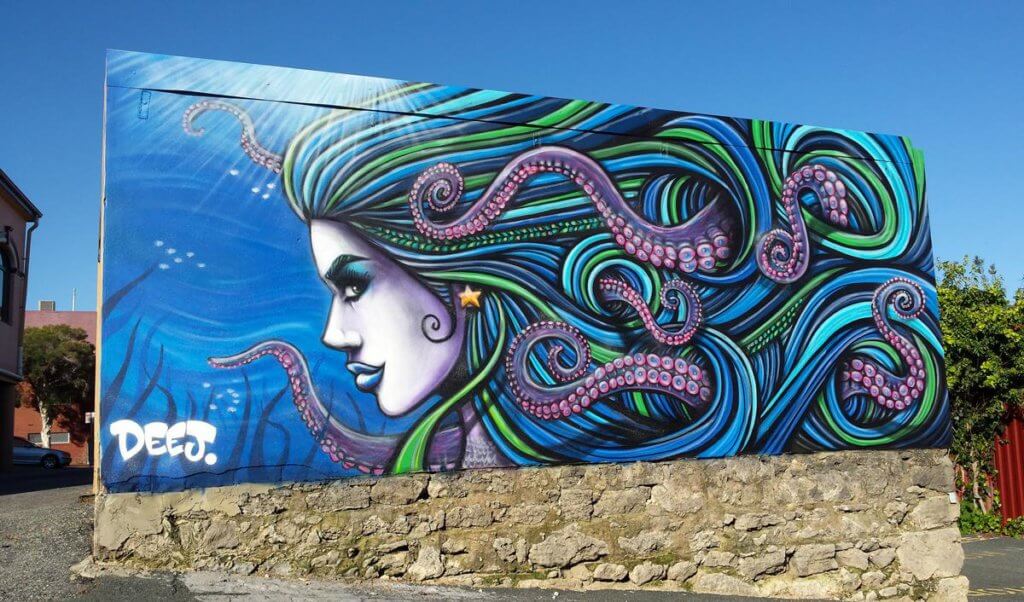 BBINK: Where & how did you grow up and how do you think this affected you on your journey towards being an artist?
I grew up in the northern suburbs of Perth, and there were a lot of older crews and writers around, although I didn't do much of that myself I always looked up to the graffiti artists. The interest in the graffiti scene as well as comic books led me to keep practising to become a better artist.
BBINK: When/How did you know you wanted to be an artist/graffiti writer?
As soon as I could hold a pencil I was drawing, first copying comic books like Garfield and Footrot Flats. So my future as an artist was set early. I always had an interest in street art/graffiti but I didn't pick up a can again until my early 30's.
BBINK: How did you learn to do what you do?
I am mostly self taught, I went to TAFE in WA and have an Advanced Diploma of Graphic Design and Multimedia, majoring in illustration. I learned to spray paint through trial and error and a lot of practise, getting tips from more experienced artists along the way.
BBINK: How long have you been a professional artist?
I have been an illustrator for 15 years, and a street artist/gallery artist for 6 years.
BBINK: What/Who are some of the inspirations for you and your art? Did this help guide you to where you are today?
My first major influences were from the comic book 2000AD, names like Steve Bisley, Kevin Walker, Greg Staples etc. While growing up I was a big fan of local graff artists Showbiz, Shime & Dash. I am also influenced by hip hop culture and Marvel comics which I think shows in my work.

BBINK: What are your specialty skills in the field(s) of work you are in? Why do you enjoy them the most?
I am happy to use any medium but my favourite is definitely aerosol. It is really satisfying and quick using spray paint.
BBINK: What are your personal goals now and in the future as an artist?
At the moment my goals are to paint overseas and just continue to paint murals for a living.
BBINK: What are some of your most prestigious honours, awards, achievements, and renown clients?
I have worked for companies like Westfield, Stockland, Audi, Sharpies, Ray Bans etc, and I have won "Best Album Art" 3 times for my Australian Hip hop cover art.
BBINK: What's the biggest misconception other people have of artists in your field(s) of expertise?
That what I do is 'graffiti', I am often explaining to people the difference between what I do (street art) and graffiti art.
BBINK: Tell us a little about how you like to work. (Alone, with others, in phases, details, etc…)
I like to work alone in my own little world of music and paint. I like to paint socially but I don't get much chance to do that while working on huge walls. I usually set myself ridiculous deadlines, I seem to produce better work under pressure.
BBINK: Why is it important for you to be a freelance artist other than a commercial artist?
I like to make my own rules and hours, and I have a family so I need to be flexible.
BBINK: What software / equipment do you work with and for how long have you used it?
I do digital illustration in Photoshop, and I like to use Molotow paint markers, acrylics with brushes, and my favourite spray paint to use is MTN94.
BBINK: What do you hope to achieve with your art form other than just making income?
It sounds corny but I like to make people happy with my art, I think its pretty cool when you make someones day a bit better while I am painting on the street.
BBINK: Why are you better suited to work with (a particular client) rather than someone else of the same field of expertise?
The experience I have as a designer and following briefs while running my own business. I can create any kind and style of art professionally with any medium, and I have a lot of experience with large scale murals.
BBINK: Thank you very much for your time and we look forward to seeing more of your amazing work.