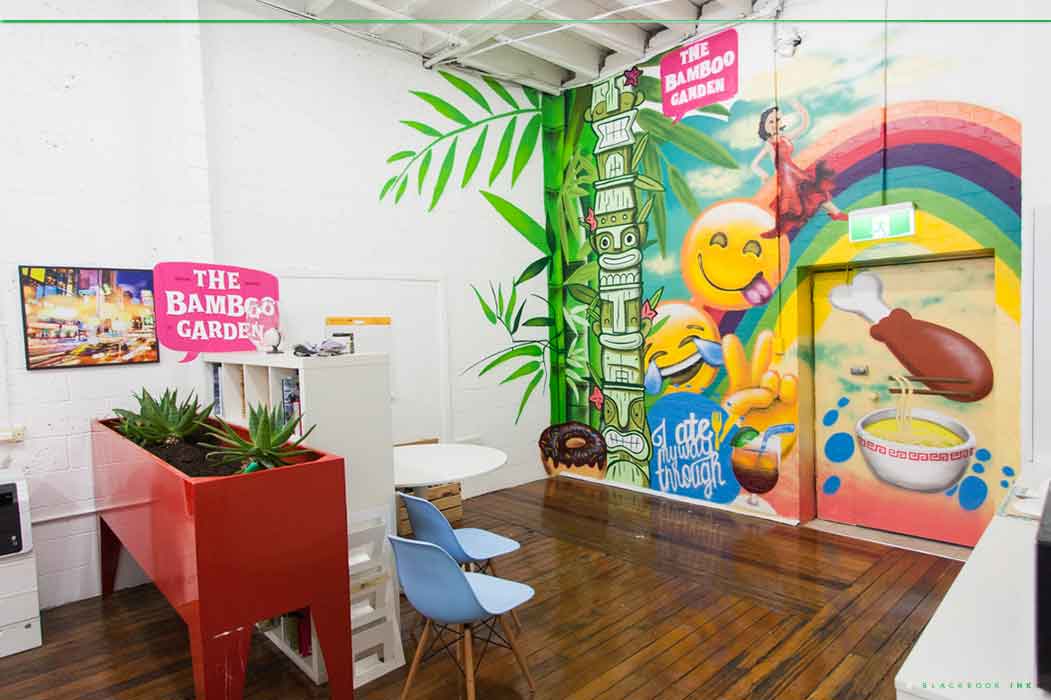 Name:  Totem Paradise
Method: Spray paint
Client: The Bamboo Garden
Location: Surry Hills, NSW
Year:  2015
In 2015 The Bamboo Garden team, moved offices into a space that was twice the size of there office space prior. Blackbook Ink was then approached to create a unique feature wall in the new office. So after a few discussions with the client, we had a general idea of what they wonted to have painted. Which was to represent there business with imagery of food and emoticons. Being that they are a online marketing and PR communications agency. The other requirement for us was to paint this mural before the rest of The Bamboo Garden team moved in. Which wasn't a problem for us to do, as we had Asone and Sektor work together and paint this wall in one night, working til the early morning, to make sure the deadline was meet.
Once the mural was painted we also had our graphic designer Nik Hori create some digital imagery of text. These quotes are the values Bamboo Garden represents. We had these five images printed on canvas to be hung around the office, complementing the corporate art that is painted on the wall.
If you would like some corporate art painted for your business. Contact our team, so we can make your vision become a reality.